Sentou Gallery


100drines's most famous collaboration is with Sentou which began in 2000 with the creation of the well-known metal keepsake boxes " La boite a" which was a real success in France as well as elsewhere in the world. Her success has enhanced her collaboration with Sentou resulting in 15 years worth of products such as kitchen ware, textiles, table art, a kids range, luggage…

---
SEPTEMBER 2011


Boîte à sourires, boîte à rêves, boîte à couture.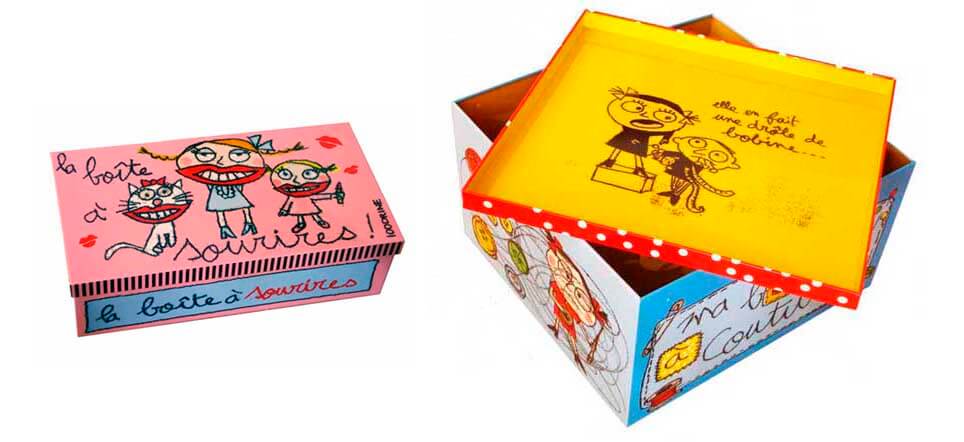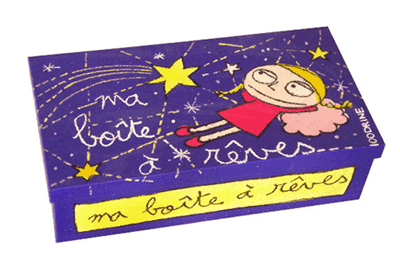 MUGS

Decorated / painted ceramic / porcelain mugs, 6 patterns:
vieille chouette, ours mal léché, poule mouillée, vilain petit canard, tête de cochon, oie blanche.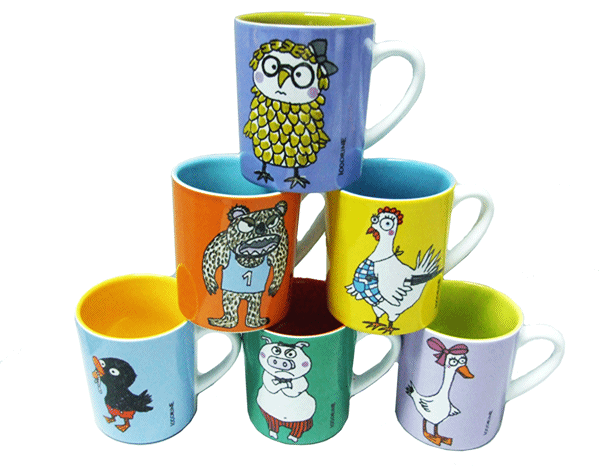 REPEATED EDITION OF THE KITCHEN CONTAINERS KNOWN AS
"LES BOÎTES À ÉPICES"


Metal boxes printed and polished, 7 new models: la boite à levure et arômes, la boite à anniversaires, les boites à capsules et capsules déca, la boite à tisane , la boite à cacahuetes et une nouvelle variante de couleur pour la boite à sucre.




SERVING TRAYS

Front is printed with mat protective covering, the reverse made of mahogany style veneer or willow.
Round, diameter 43,5 cm, square, 36 X 28 cm.

ANIMAL CUSHIONS

One side printed on cotton, the other side in smooth velvet. Dimensions : 30 x 50 cm ou 35 x 45 cm.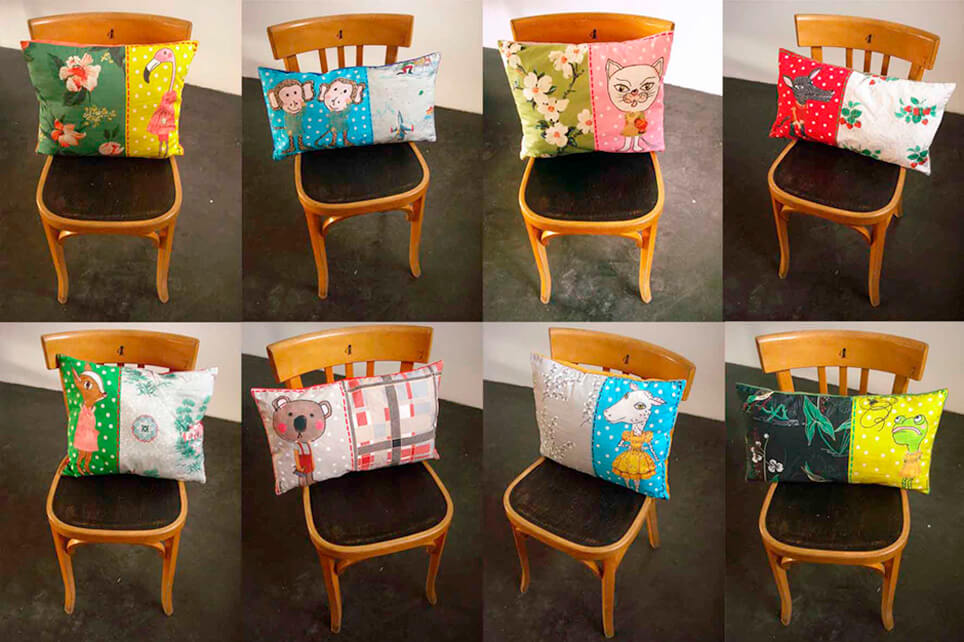 ENGLISH VERSION OF THE BOXES KNOWN AS "LES BOÎTES À":

8 versions : letter box, make myself even more beautiful box, my first aid box, my wedding box, my box of secrets, my happy box, my chocolate box, make myself pretty box.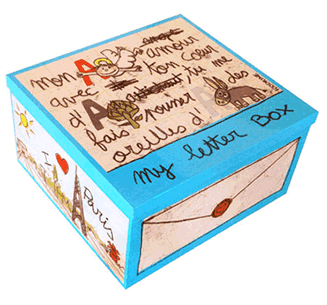 ---
JANUARY 2011


A collection of twelve security blanket style cushions printed on either side and made of 100% cotton. Nini bigoudi, Fernand le gourmand, Tototte la quenotte, Richard le coquard, Lulu turlututu, Lili la souris, Lolotte et les griottes, Zaza et son chat , Edmond le cornichon, Gaston la baston, Alexandre le tendre et Dudu le poilu !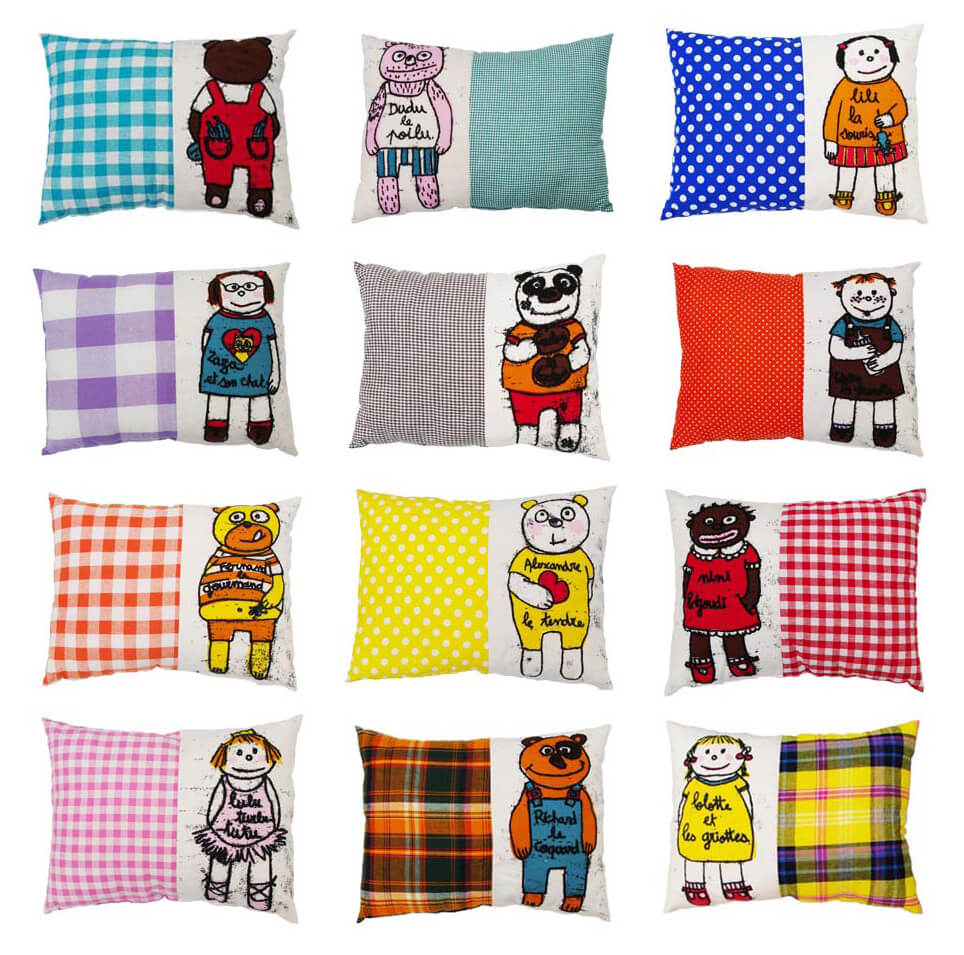 ---
JANUARY 2011


Several boxes: boîte à biscuits, boîte à câbler, boîte à recettes.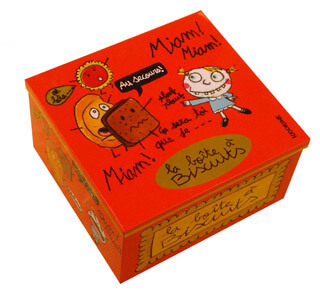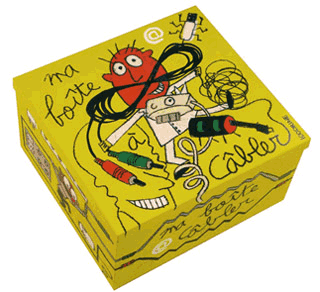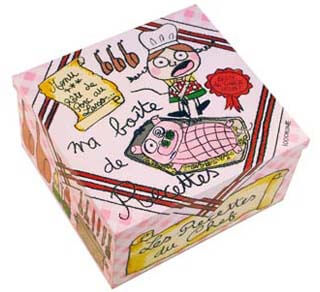 SEPTEMBER 2010


Several boxes: Ma boîte d'artiste - La boîte à consoles - La boîte à punaises - La boîte des Amours.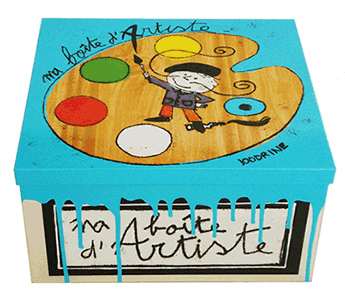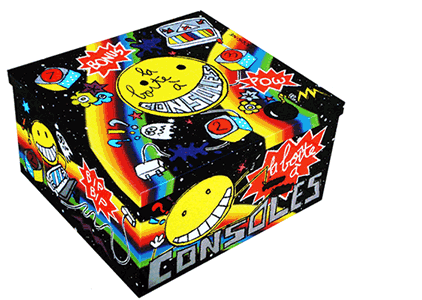 ---
JANUARY 2010

PRINTED METAL BOXE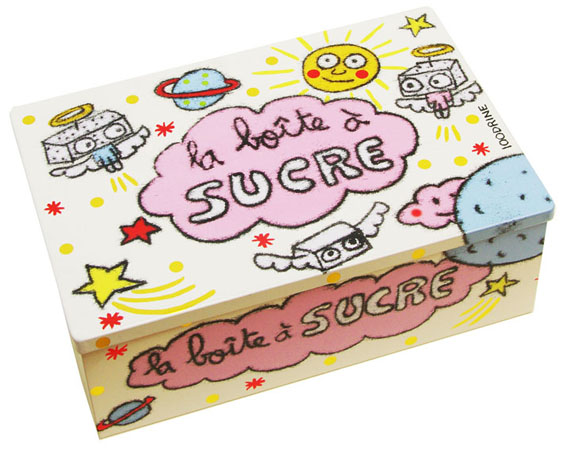 MIRRORING THE "CIBLES" COLLECTION / KITCHEN OR BATHROOM BOXES

Rire comme une baleine (Boite à sel) - Malade comme un chien (Boite a bobos) - Têtu comme un âne (Boite à riz) Comme un ours mal léché (Boite à rasoir) - Voleuse comme une pie (Boite à bijoux) - Doux comme un agneau (Boite à coton).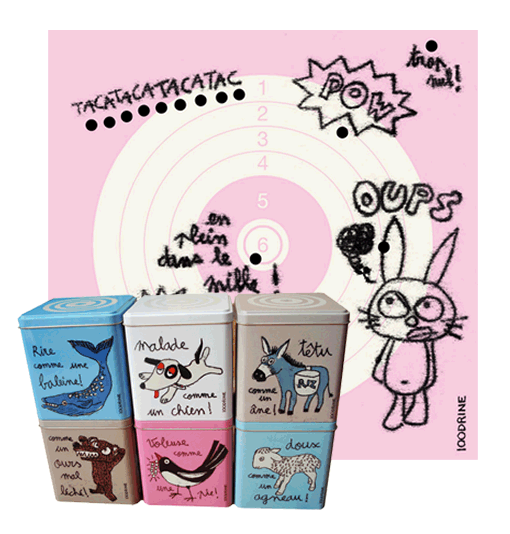 ---
SEPTEMBER 2009


"Sage comme une image" (sweets container), "Malin comme un singe" (sugar box), "Rapide comme l'éclair" (coffee tin), "Léger comme un papillon" (tea box), "Vif comme un écureuil" (chocolate container), "Rusé comme un renard" (spices box), "Gai comme un pinson" (semolina container), "Blonde comme les blés" (Flour tin).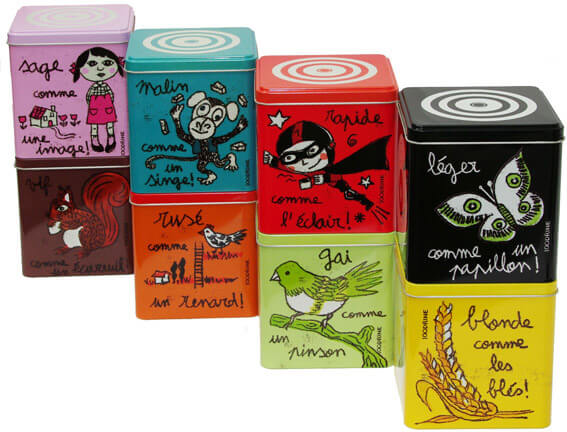 Les protèges carnet de santé.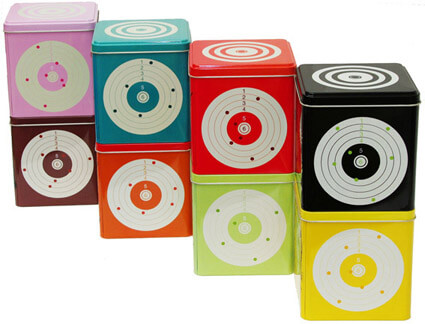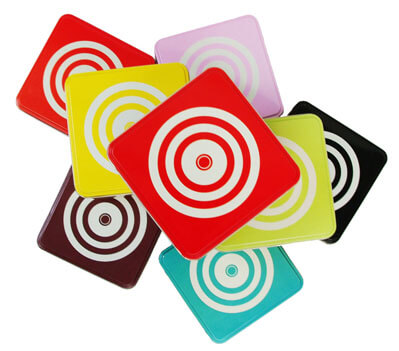 SEPTEMBER 2009

La boîte à Kawa, Ma boîte d'épargne.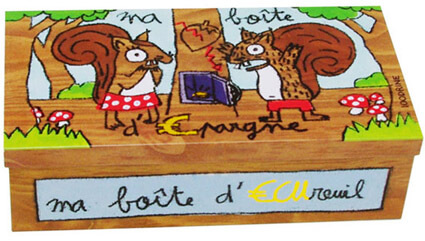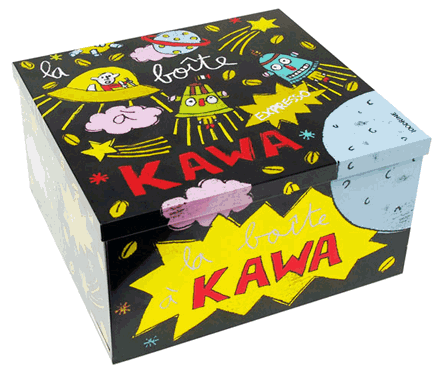 "Zoreilles" melamine kids plates (with big ears).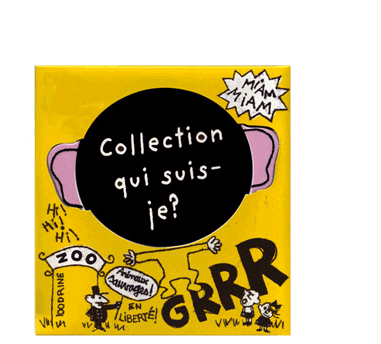 TOMBOLA COLLECTION

Wallets, cases and purses/small bags ... the reverse is made of kaki army style material, 100% cotton, internally lined.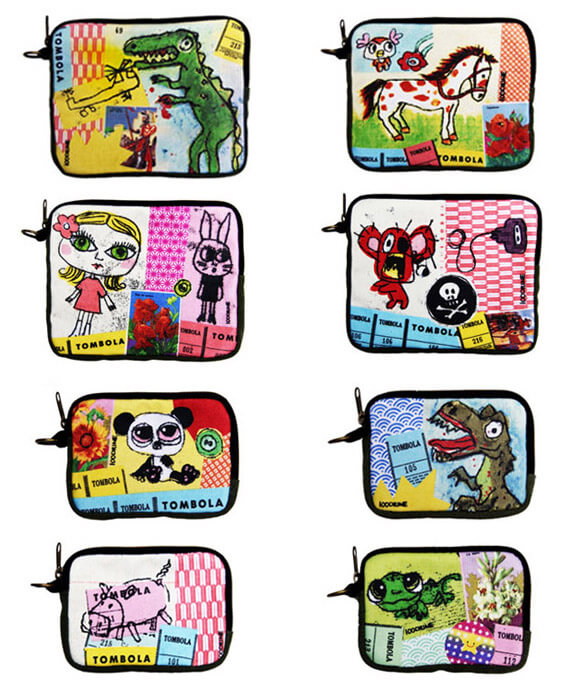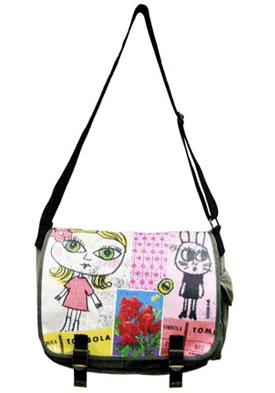 MEZZE-STYLE BOWLS

Ceramic bowls, 6 different models (for olives, nuts etc.): "olive et picholine", "cacahuete", "salami", "pistache", "tomate-cerise" and "bretzel".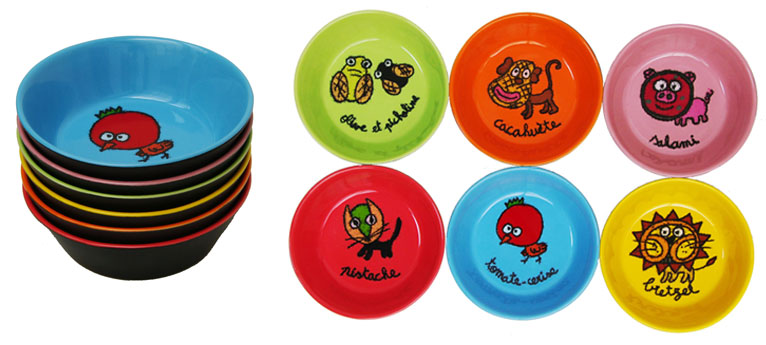 ---
JANUARY 2009


Collection of cardboard boxes illustrated with a travel theme that pop up and have a magnetic lid. Flat pack, six different models.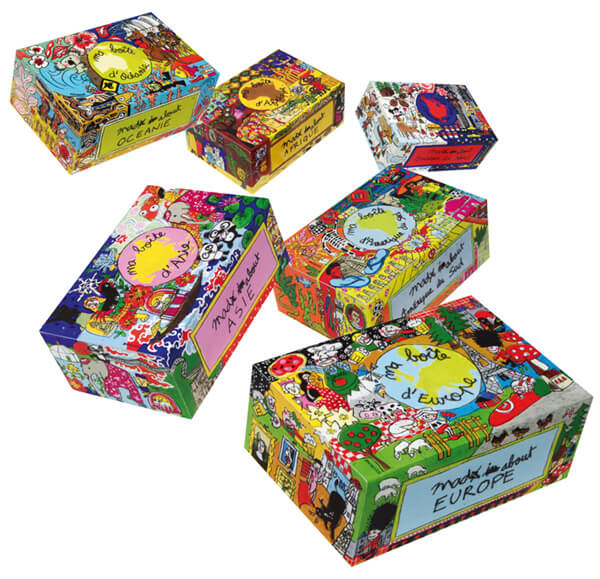 ---
SEPTEMBER 2008


SCHOOL RANGE

Two new schoolbags and several metal pencil boxes: "Mes pattes de mouche" pour les garçons, "preums, deuze , troize..". pour les filles.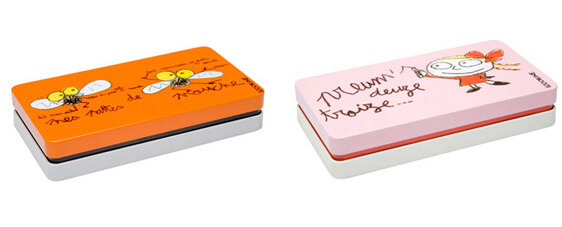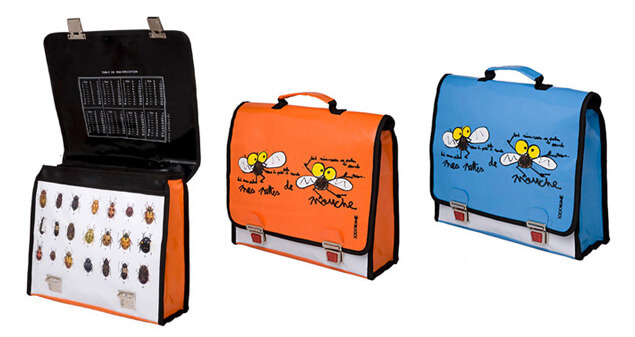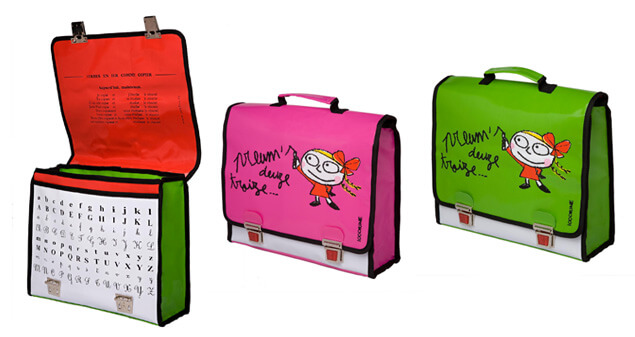 THE "HAUT LES MAINS… POW DE LAPIN" RANGE

The "Pow de Lapin" range is a very girly collection of bags for day and night! Made of metallic vinyl in elegant colours: pink and white gold, orange and platinum colour or bronze and ice blu… a large and small bag, clutch bag, purse, and pocket mirror…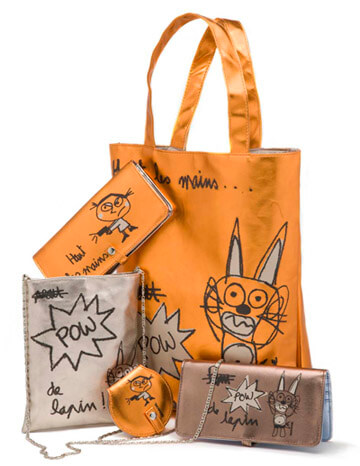 ---
JANUARY 2008


THE "RENDEZ-VOUS AU JARDIN" COLLECTION

The "Rendez-vous au jardin" garden collection; a range of products in lively and vibrant colours consisting of flower seed containers, "dahlia" plates, "bird" plates, outside mattress and cushion, picnic blanket, garden stool made of carton.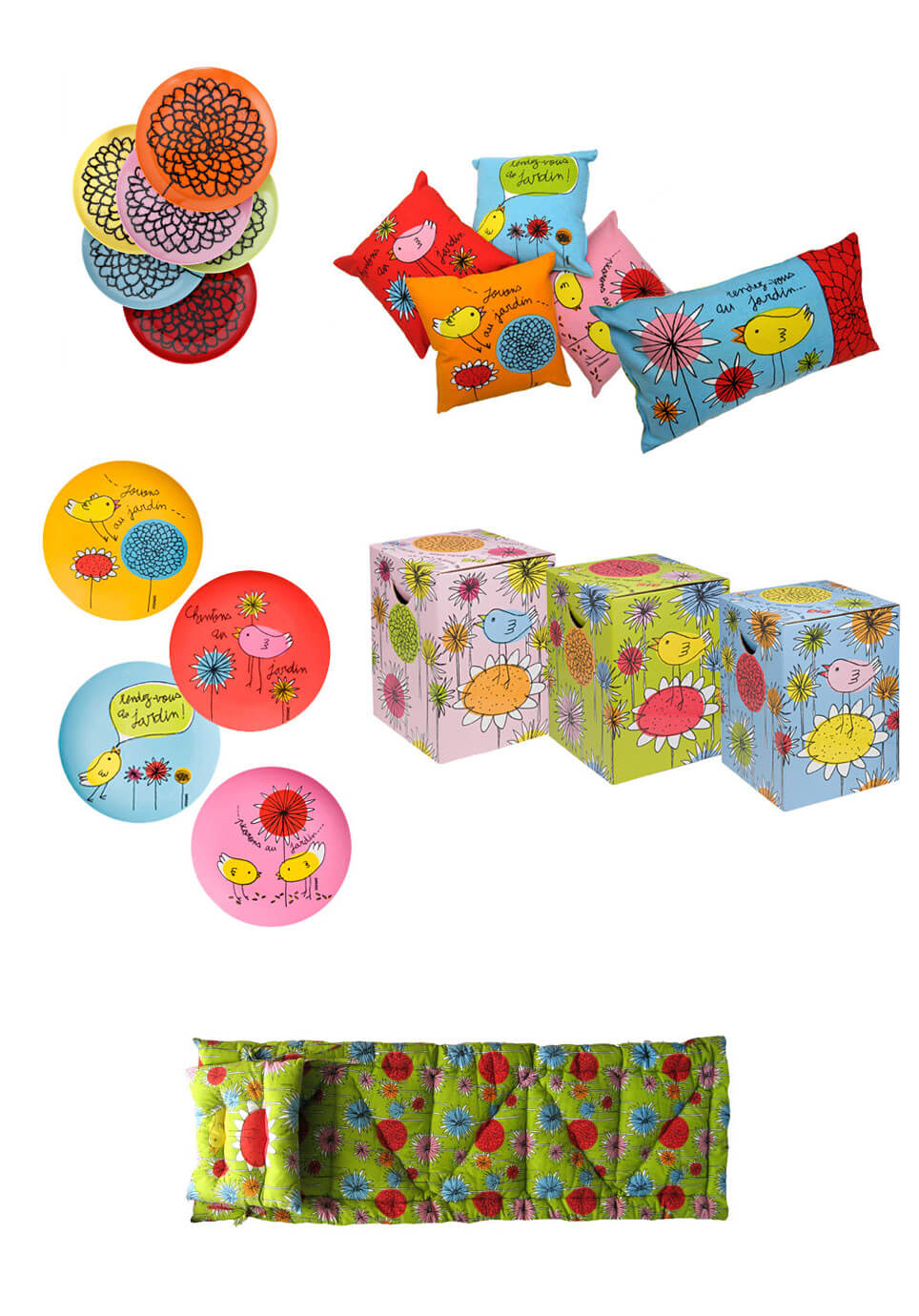 The emaille collection consists of three different patterns: a clock, coasters and an hourglass.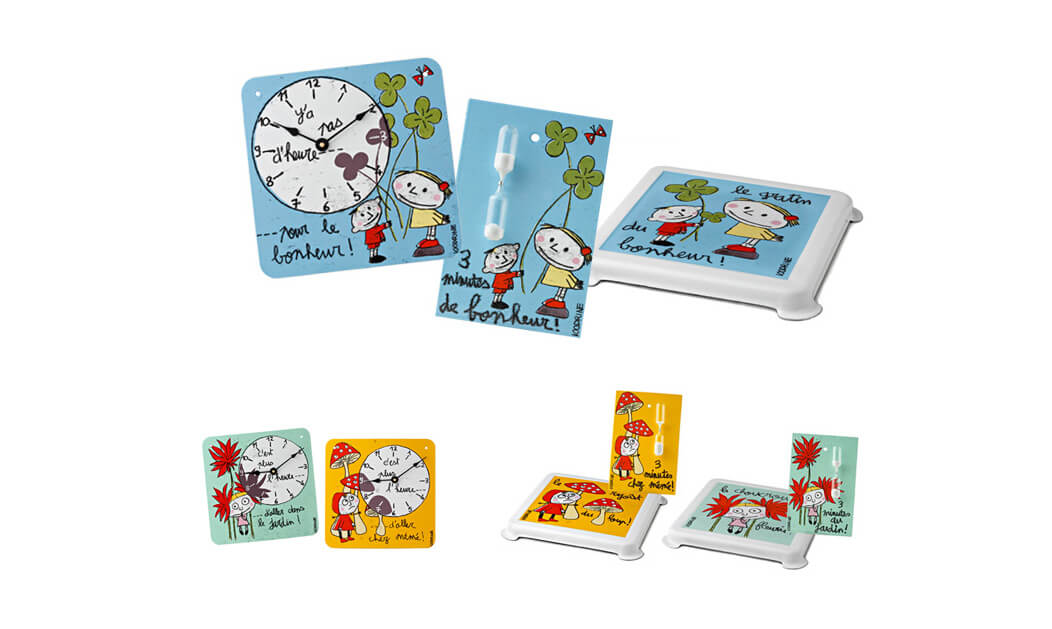 ---
DECEMBER 2007


5 NEW BOXES

Biche, Gribouillages, Luxe, Anniversaires, Superzero.